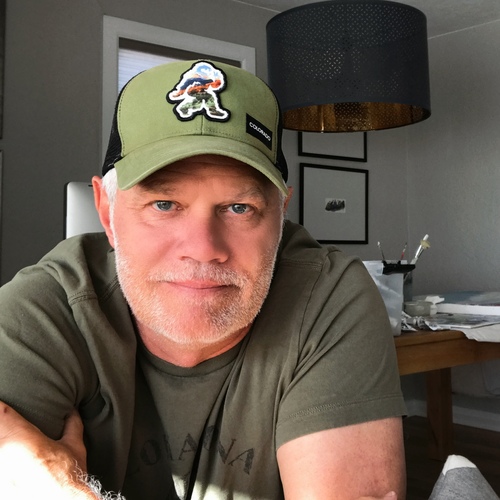 Shop James Bohling Artwork
James Bohling was born in Hebron, Nebraska and grew up in Denver, Colorado. Having spent weeks every summer with his grandmother in a small Nebraska town, he gained a real appreciation of the land and rural life.
Time spent with family consisted of camping in the mountains, visiting ghost towns and four wheeling. His fondest memories are of discovering what was at the end of a trail, watching beavers work their dam, and spotting deer or elk across a lake. His landscape paintings capture those very moments in a loose, almost abstract style, with a palette that mimics the vibrant colors and rural subjects found in the Midwest and Colorado. James gravitates towards great sweeping skies, married to slices of warm earth and distant mountains, dotted with the comfort of warm barns and farm homes.
Largely self-taught, his style has evolved through experimentation with different mediums and approaches. James primarily works with acrylics, but has studied water colors as well as oils. Through the years he has received instruction at The Art Center of South Florida and the Art Students League of Denver.
Of his approach to painting the artist explains that he is trying to evoke a restored appreciation for the world around us, James says "I find joy in nature's colors, lines, and forms. Even man-made creations, however ordinary, enrich nature's beauty. I often times think people overlook the beauty that surrounds us. Just take a close look at the sky, it is amazing".
Bohling has been featured in Colorado Homes and Lifestyles, Denver Life Magazine, OnDenver.com, and as an emerging artist in Colorado Serenity.

No products match your search
---